O mne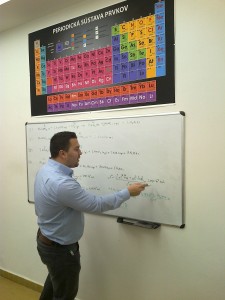 Vitajte na mojej stránke. Moje meno je Michal Lazor, mám 37 rokov a som absolvent Slovenskej technickej univerzity v Bratislave, Fakulta chemickej a potravinárskej technológie. Inžinierske štúdium som skončil v odbore chemické inžinierstvo a riadenie procesov, PhD štúdium na oddelení environmentálneho inžinierstva.
Podnikám v oblasti mimoškolského vzdelávania (mám otvorenú živnosť), kde poskytujem krátkodobé aj dlhodobé konzultácie chémie a matematiky na všetkých stupňoch (t.j. ZŠ, SŠ a VŠ). Pripravujem študentov a žiakov na skúšky, maturity a prijímacie pohovory na vysoké školy (medicína, farmácia, technické fakulty). Konzultácie poskytujem osobne ( u mňa v kancelárii), ale aj online (cez internet). S doučovaním mám už vyše 15 ročné skúsenosti.
Vzdelanie, vzdelávanie a najmä celoživotné vzdelávanie považujem za kľúčový aspekt rozvoja ľudskej spoločnosti. Hĺbka a kvalita vzdelania mnohokrát rozhoduje aj o úspechu, či neúspechu v obchodnej a spoločenskej sfére. Preto robím, to čo robím. A robím to rád. A rovnako rád poskytnem a poskytujem svoje skúsenosti a schopnosti svojim klientom, lebo som presvedčený, že len vzájomným obohacovaním sa môže ľudstvo a jednotlivec posúvať ďalej.
Michal Lazor